Since my blog is still very young, I haven't had the chance to share with you our cute Halloween costume ideas from the past couple of years!
I LOVE Halloween.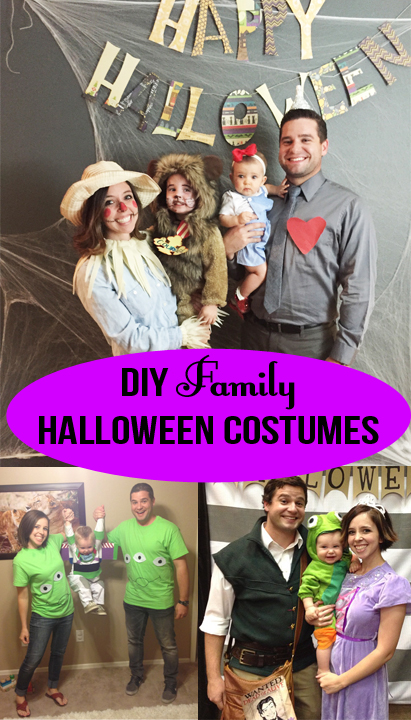 I look forward to it all year long and am always saving party ideas, halloween decor, and especially Halloween costume ideas. The last couple of years I've been so lucky to not only come up with ideas for myself but to have an amazing husband who will let me dress him up and two amazingly adorable kiddos to dress up too.
It's the best.
Our first Costume as a family was in 2012 when we went as Rapunzel, Flynn Rider, and Pascal the Chameleon from the Disney movie Tangled. I was excited to be Rapunzel because my hair, at that time, was the perfect length to match Rapunzel's at the end of the movie.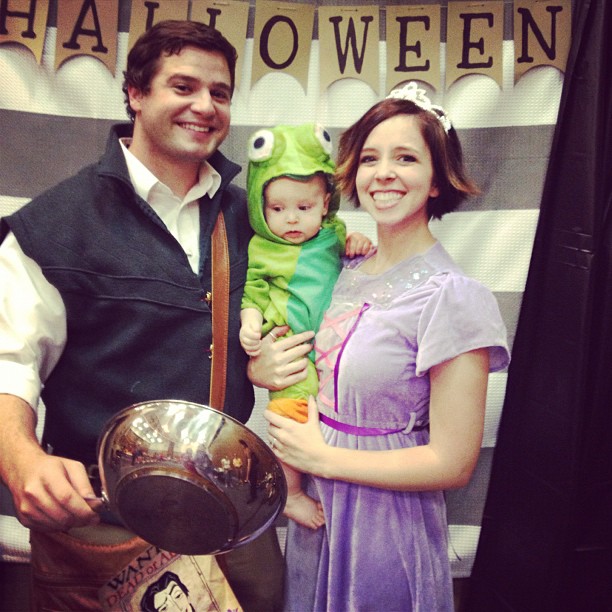 These costumes were super easy!! I got everything at D.I. and just added a couple of ribbons and claspy things and I changed some of the fabrics out of Porter's Costume from orange to green. Goodwill and D.I. are amazing around halloween time. Always check there first before spending all your moneys somewhere else. Unless you don't like second hand stuff which is kind of understandable. But it's just for one night so just do as I say and go to the thrift store first!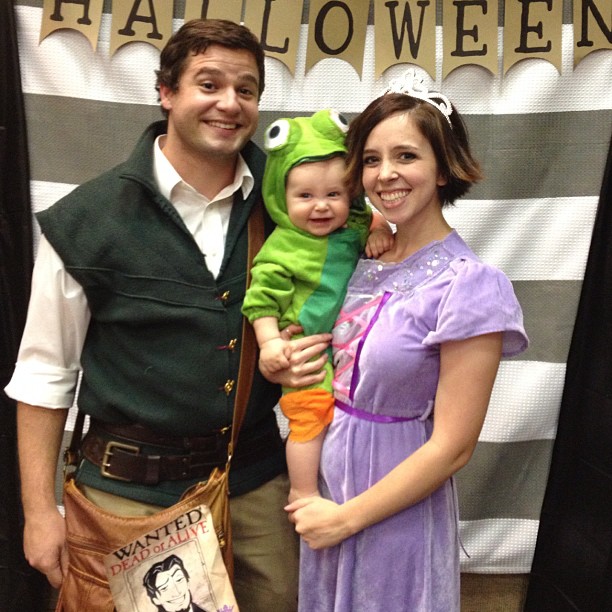 I think I got my crown at Hobby Lobby.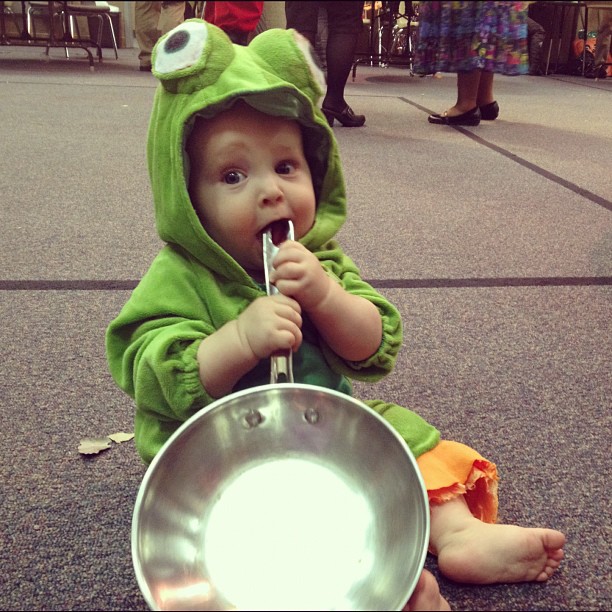 ———————————————————————–
Halloween of 2013 I was about 3 months pregnant with my second baby and didn't have a lot of energy to do anything too crazy, so I grabbed some felt and my hot glue gun and went to work.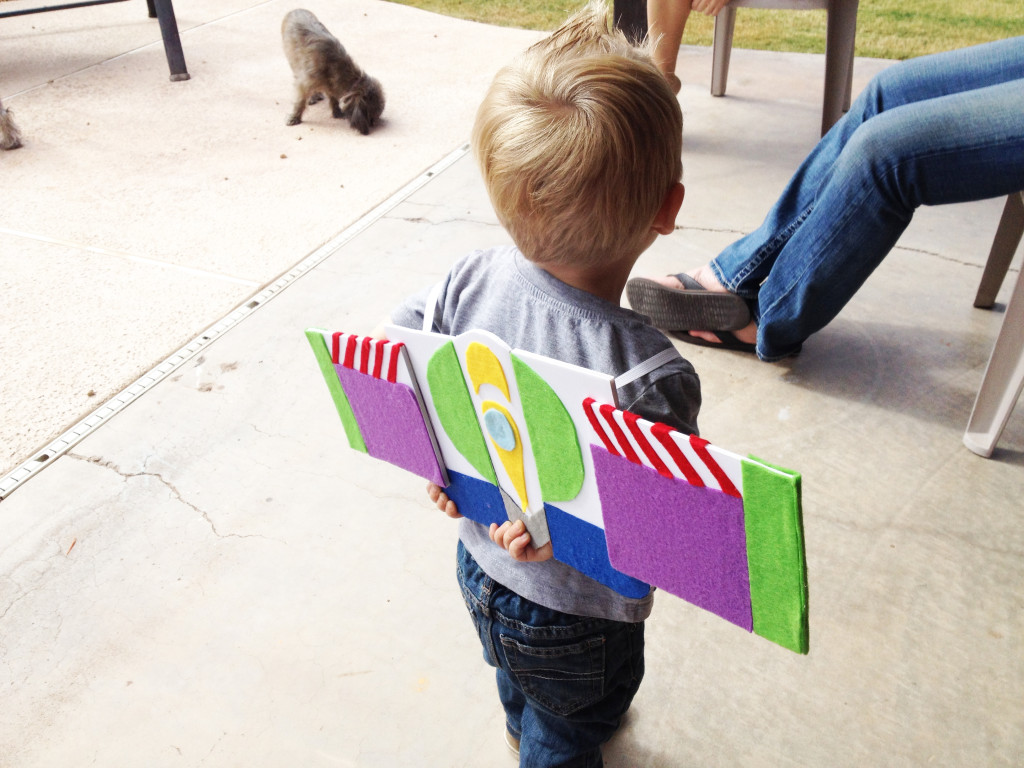 Porter's Buzz Lightyear jet pack is made out of foam core, which I hot glued together, and felt, which I hot glued onto the foam core. I love hot glue. And then I glued some elastic strap onto the front for his arms to go through. Sorry I didn't get a better picture.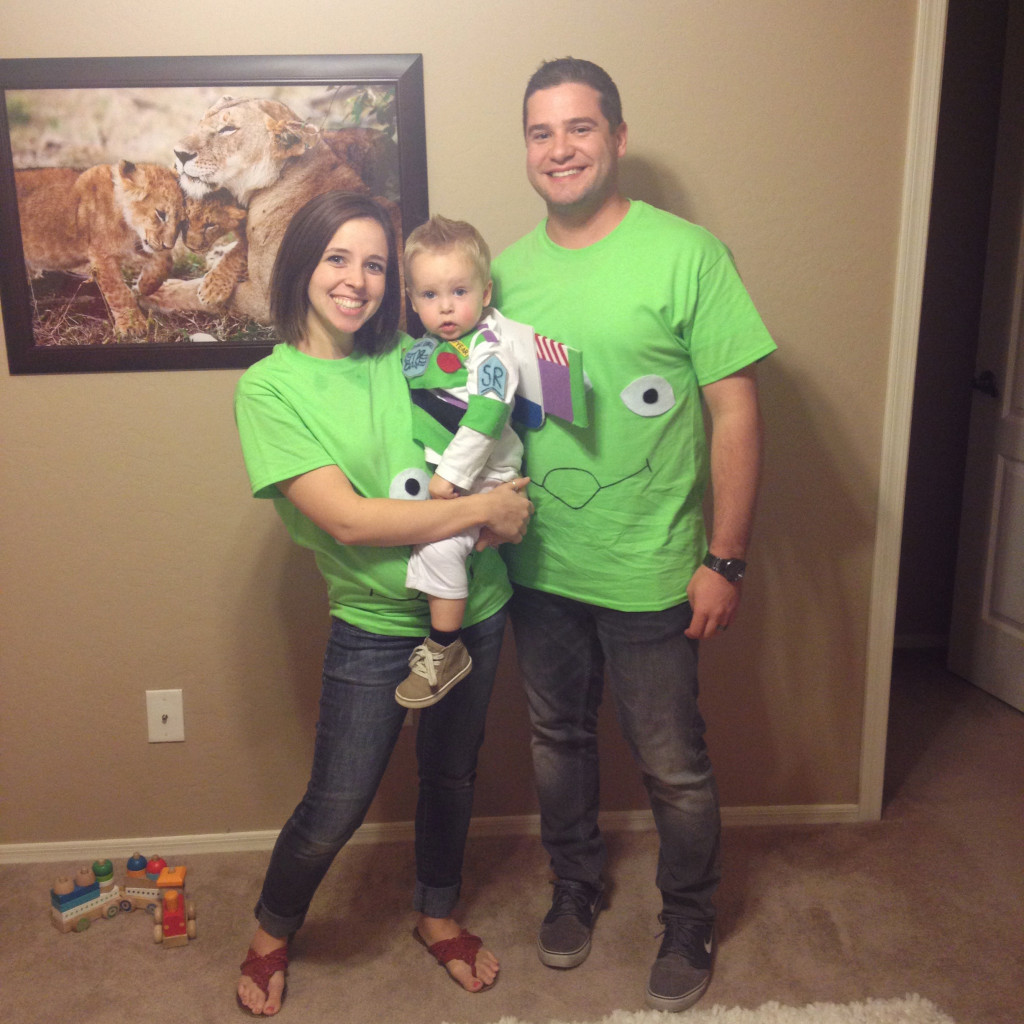 For his suit I bought a white long sleeved shirt and white pants and, you guessed it, hot glued felt onto those too. To make the design for his shirt I just kind of looked at pictures of Buzz online and did my best.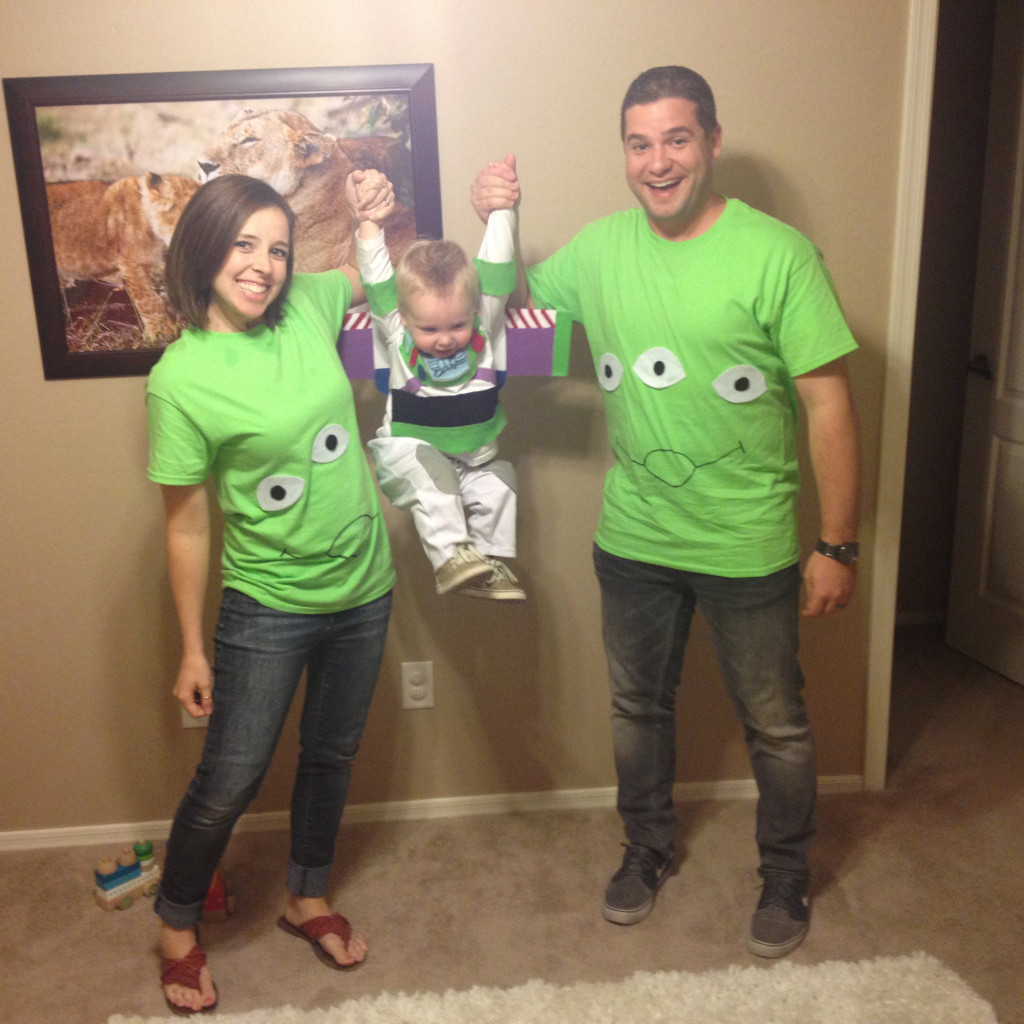 Then, for mine and Zach's outfits, I bought green shirts from hobby lobby and glued on some eyes and drew on the mouth. (we're supposed to be the aliens from toy story if you can't tell. "The Claaaaaaaaaaaw". Those ones). Super Easy!!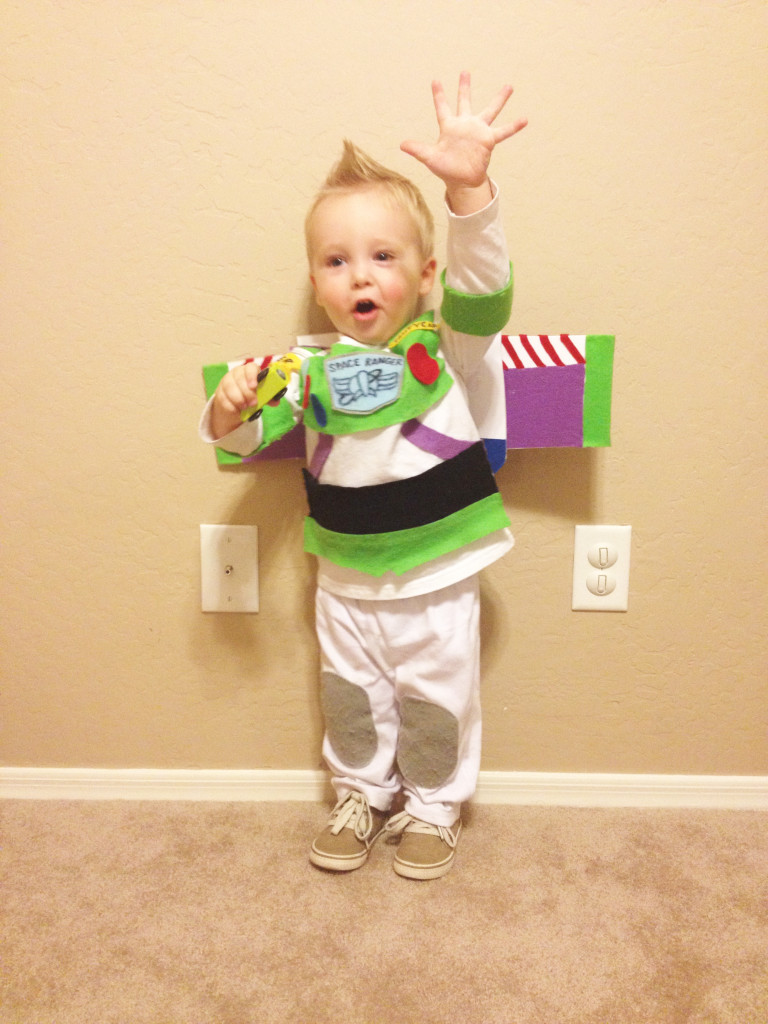 I loved this Buzz lightyear costume. He's just the cutest. Look at his cute hair!
——————————————————-
And now we've come to last year's Halloween.
We went with a Wizard of Oz theme. I was the scarecrow, Zach was the tin man, Piper was Dorothy, and Porter was the Cowardly Lion
Oh how I wish I had documented every step of the making of these costumes because they were so fun and, yet again, super easy! However, I did not… So if you're looking for a play by play you'll have to do as I did and just wing it.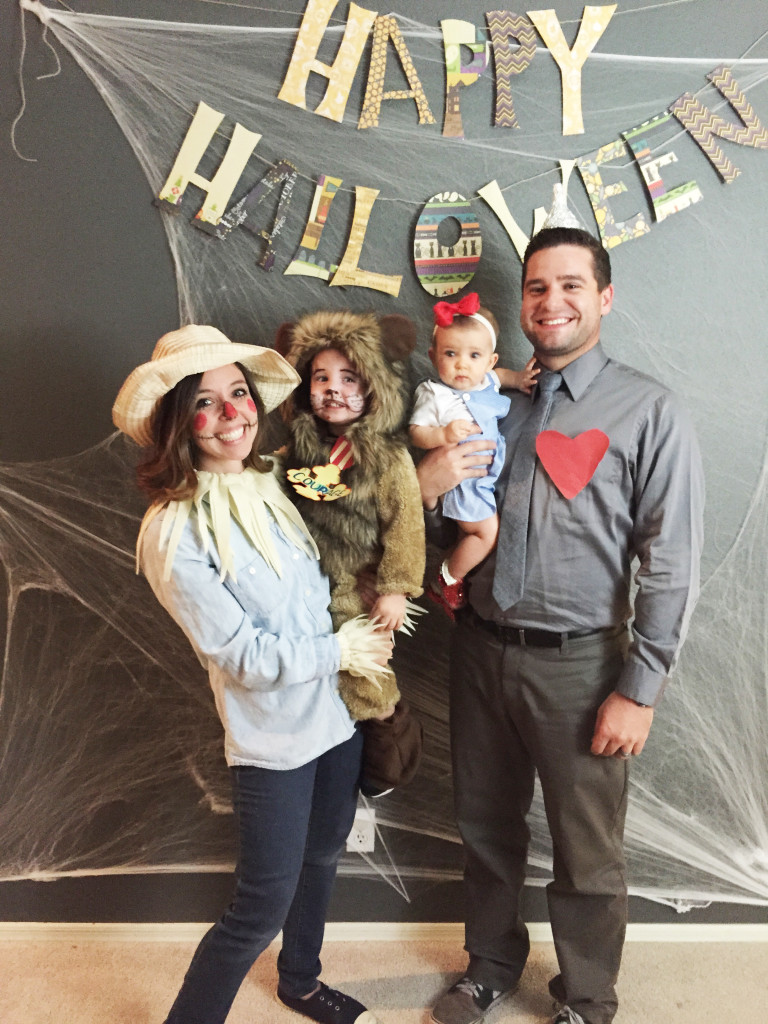 I have to say that making a furry lion suit for a little kid to walk around in in October in Arizona was a risky move. Arizona is still really really hot in October. Poor little guy was very toasty.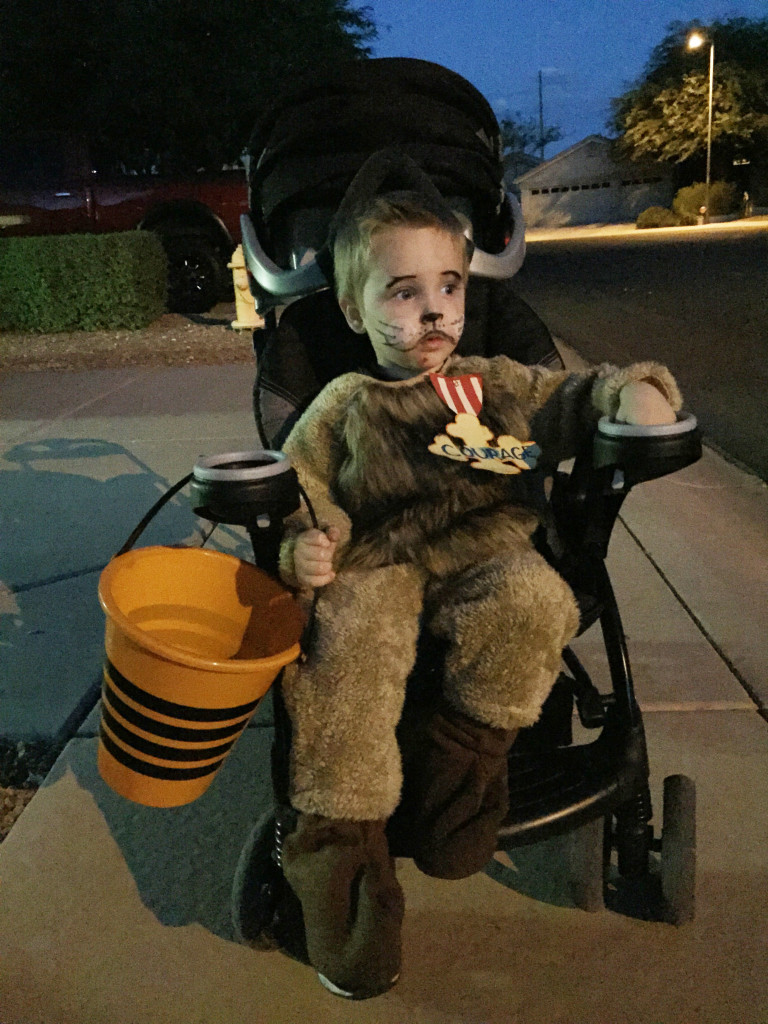 It was really fun to paint his face. I used some random box of halloween face crayons I found at walmart or something. His eyebrows were black for like a week after this.
I got his little fur jumper suit from goodwill, hot glued the fur onto the front and sewed some little felt covers for his tennies.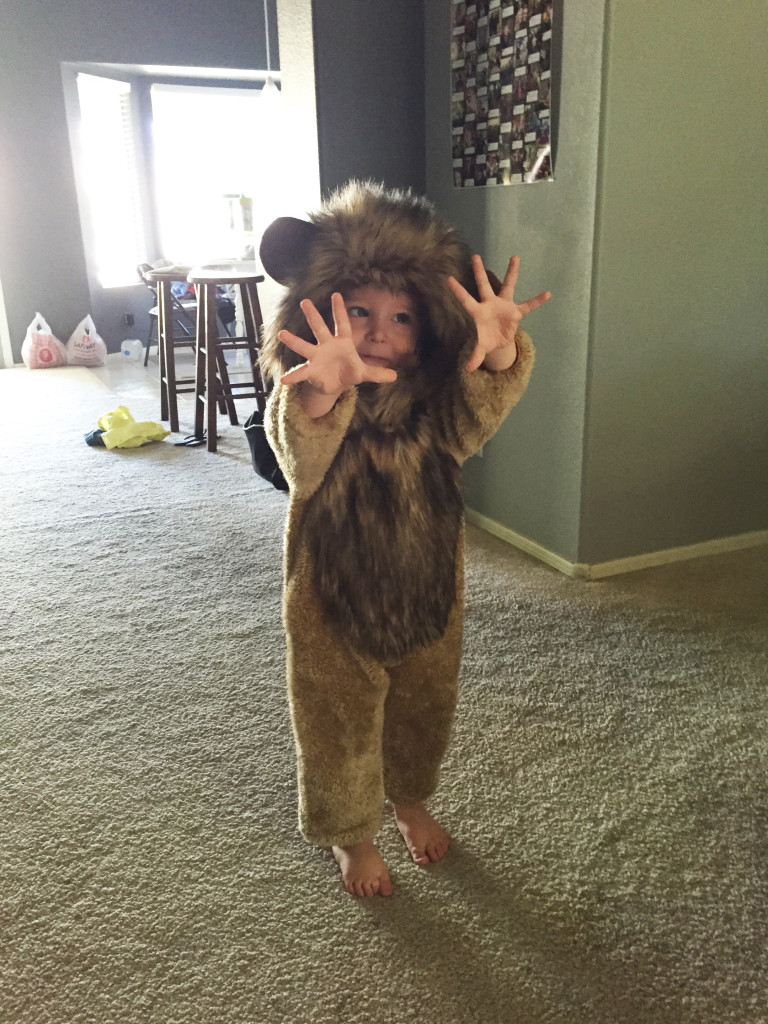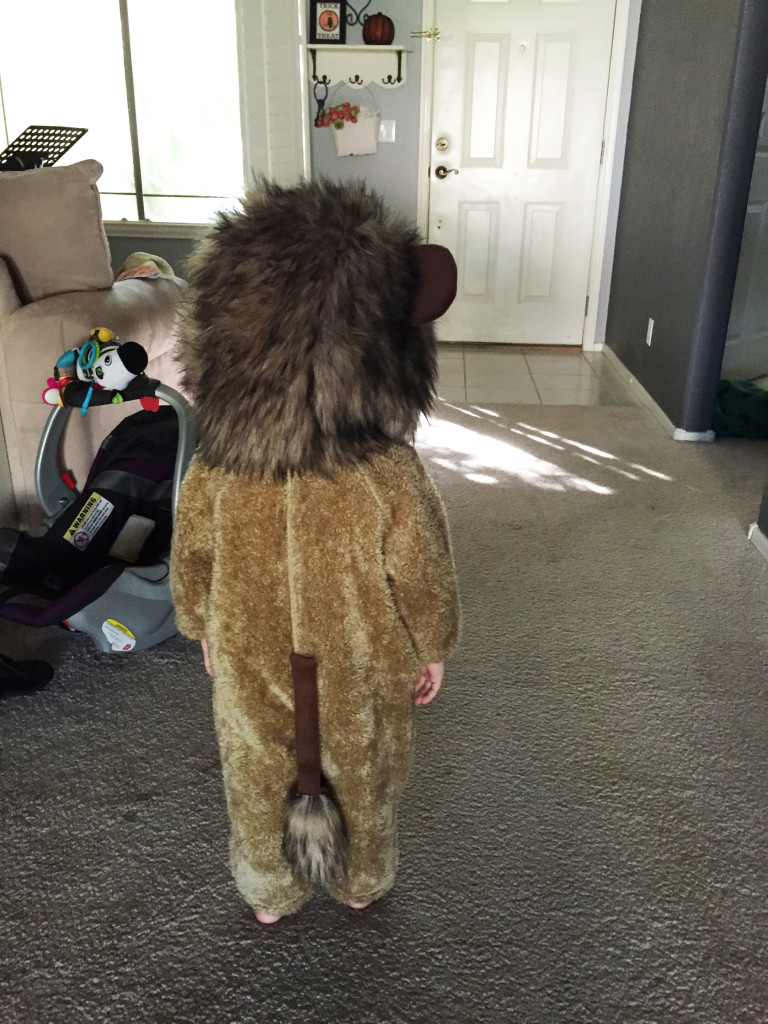 And of course I had to make a tail.
I got the fur from Joanne's Fabrics for super cheap. It was on sale and I was jumping for joy.
The hood really wasn't that hard to make. I pretty much just grabbed his heavy coat and made a makeshift pattern from looking at it. I will say that working with fur can be very tricky so be sure to look up some stuff before you start hacking away.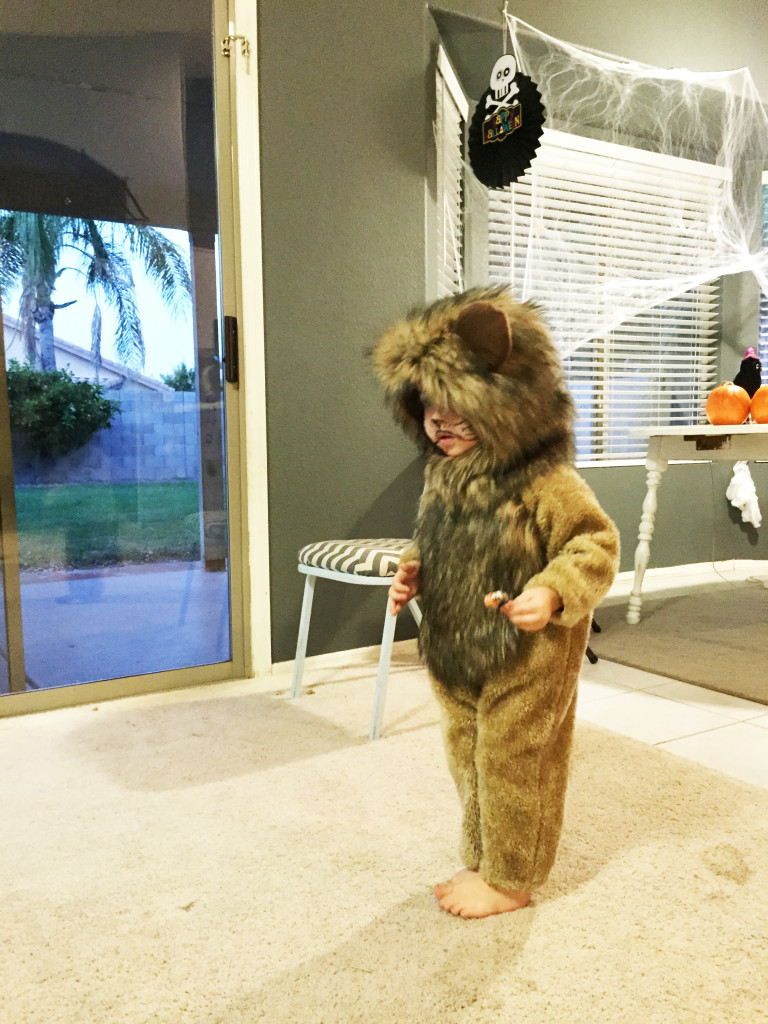 For baby girl's costume I just grabbed a big men's shirt from Goodwill that had the pattern that I wanted and made her a little apron. It's really just squares and straps sewn/glued together. If they're only wearing it once, why stress out trying to make it perfect?
I think it turned out great.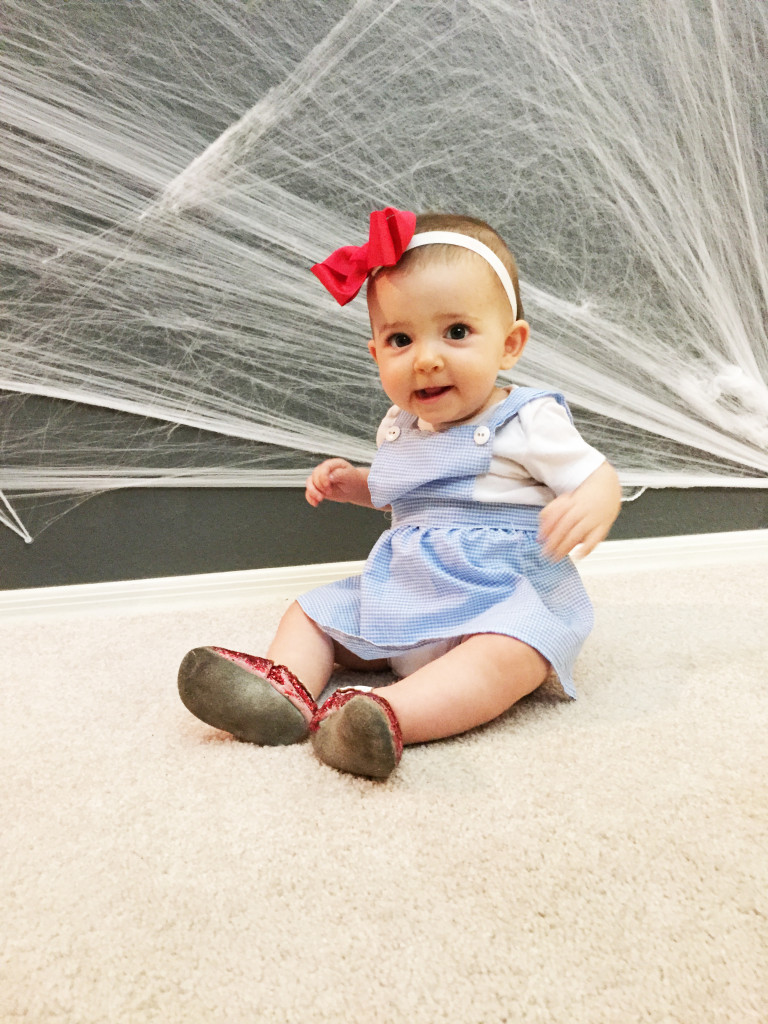 For her ruby slippers I grabbed some hand-me-down shoes, coated them in glue, and put glitter all over them. As you can see it didn't stay on super duper well. Next time I would use more glue, more glitter, and give it more time to dry. Like a week or something.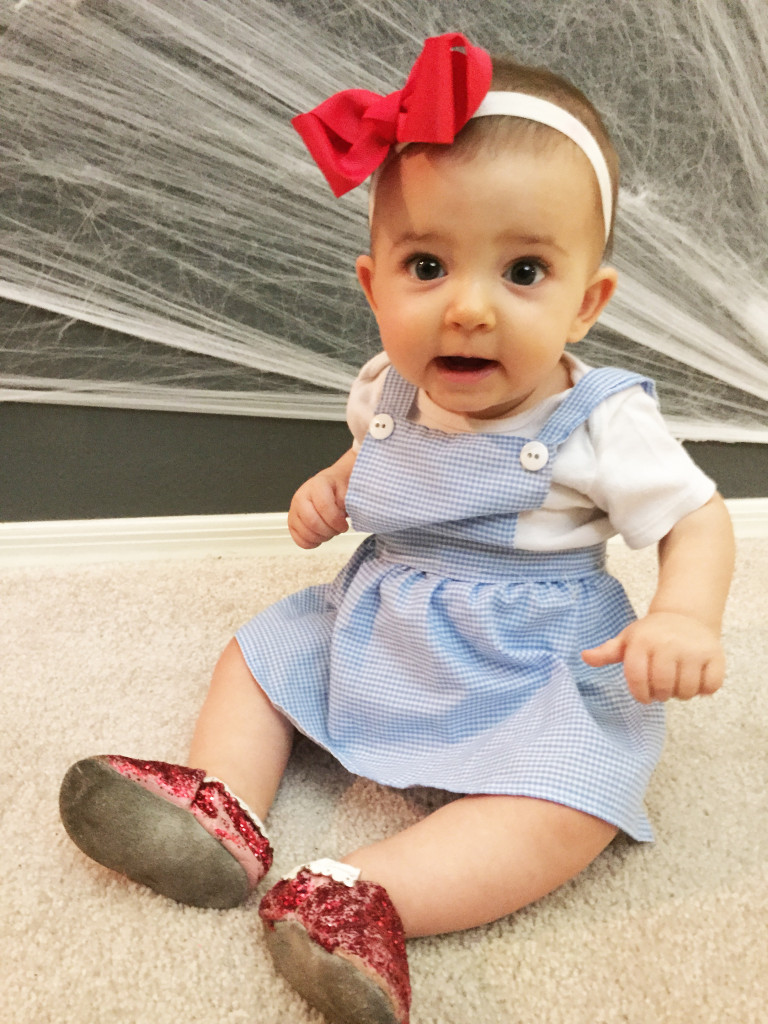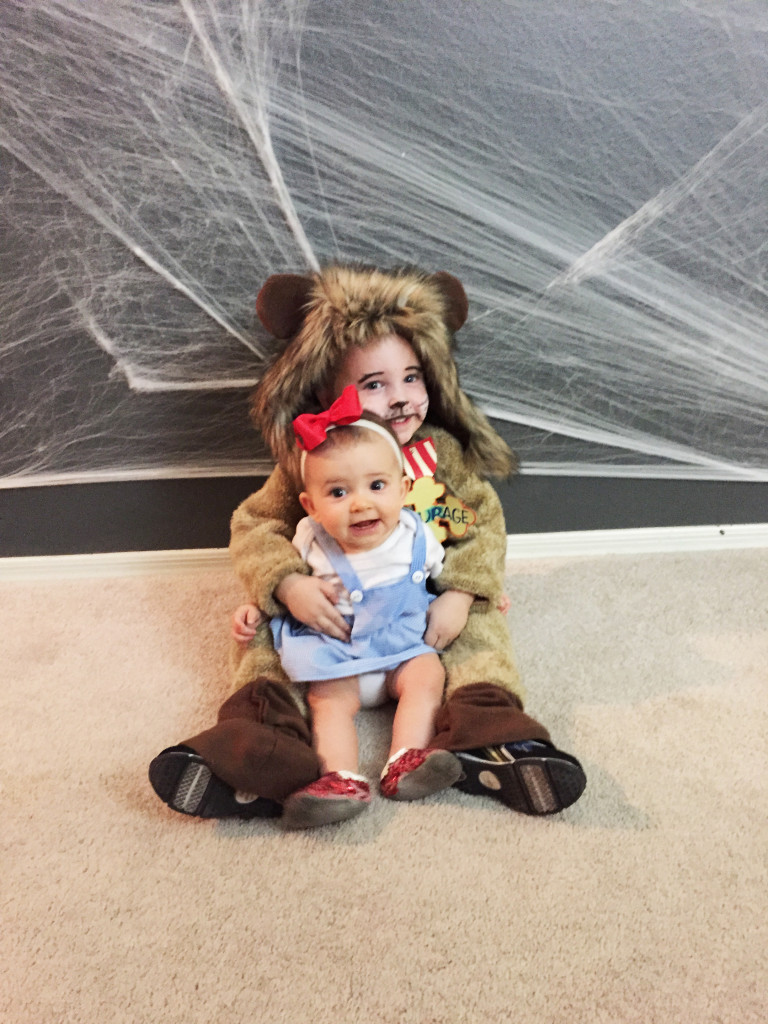 We had such a great night! We had a party with all our close friends and had a blast seeing everyone's costumes.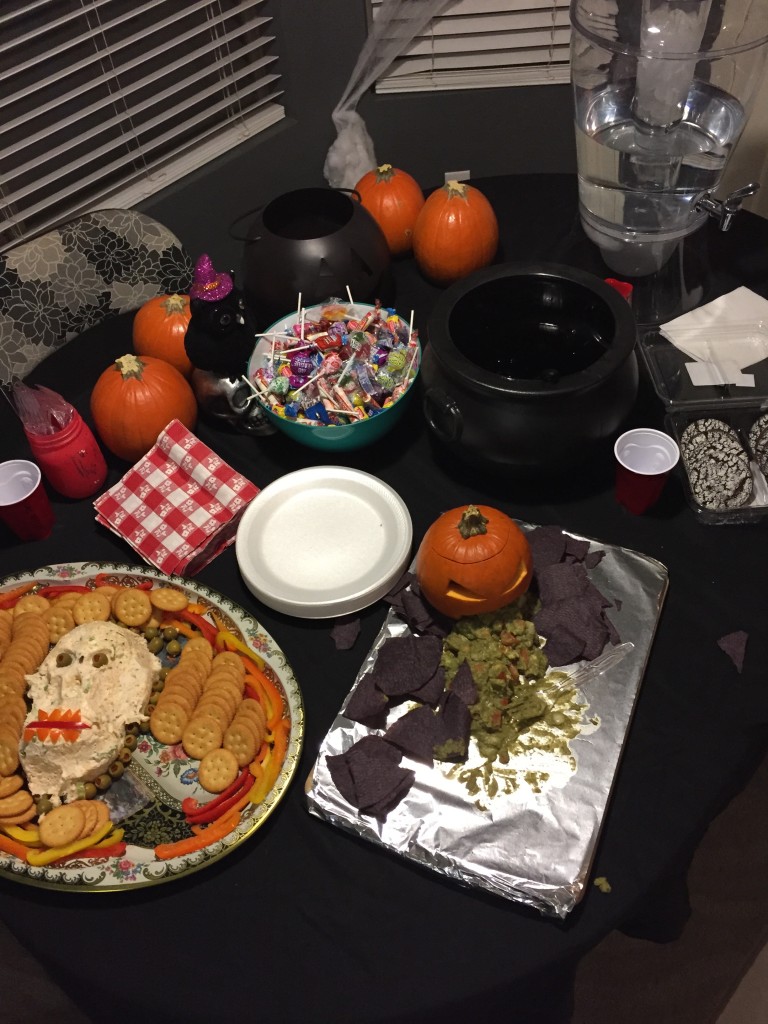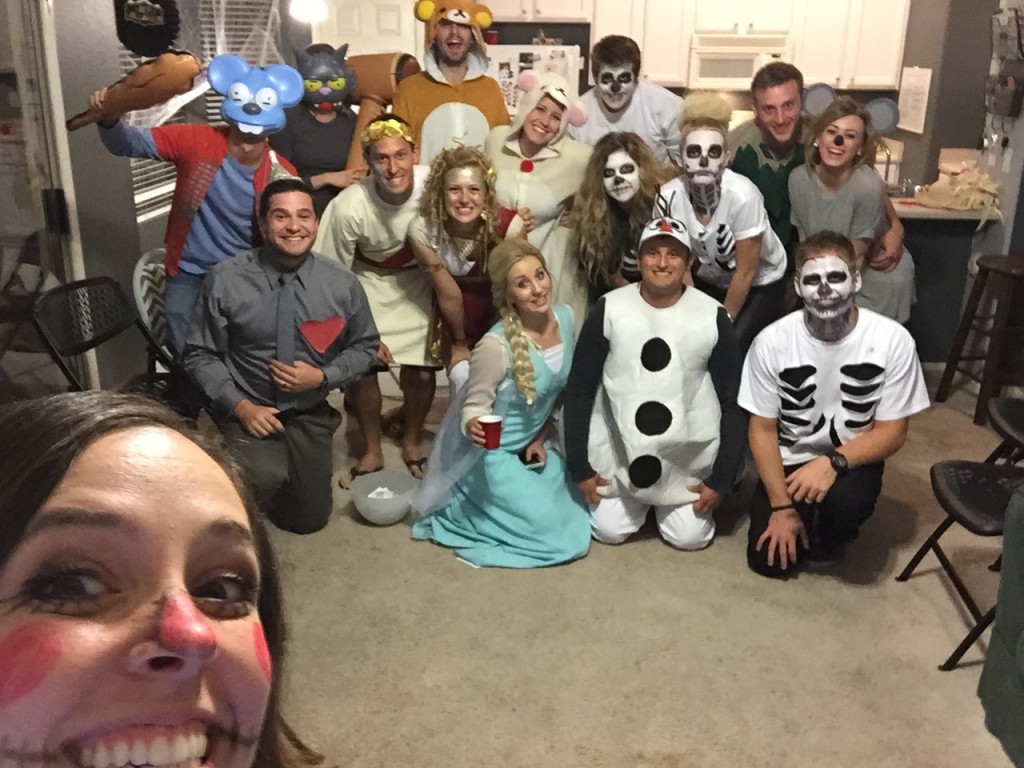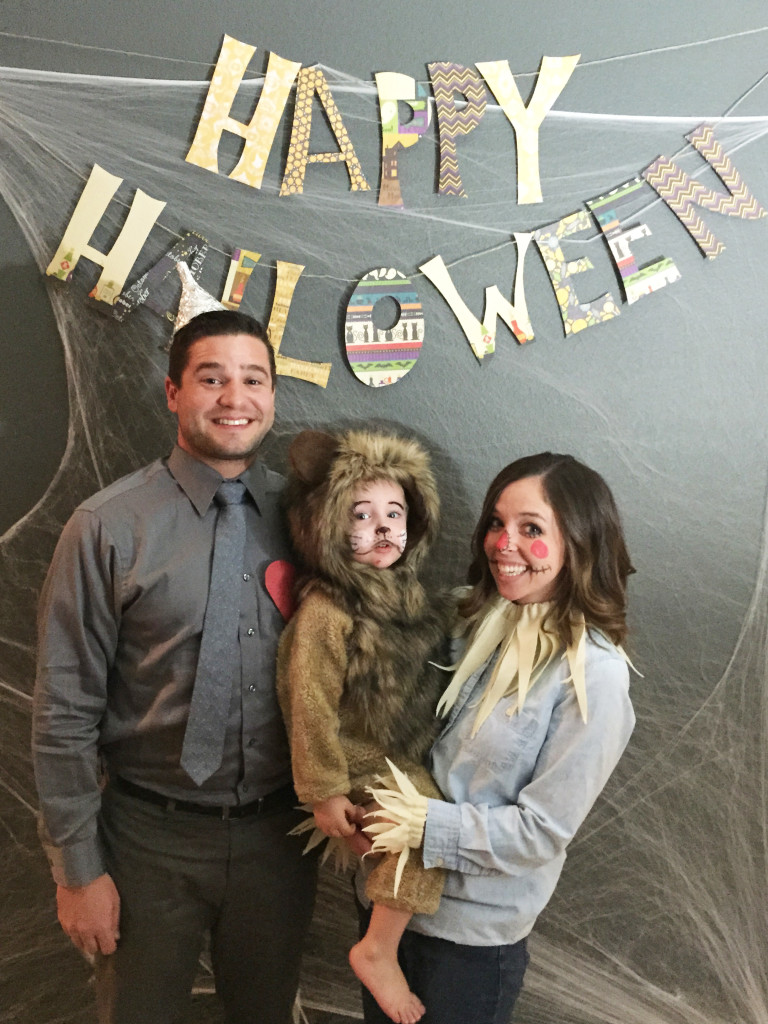 I hope this will help any of you looking for Halloween costume ideas and please feel free to comment or contact me for more info if you want some.